theBythams : old welcome page news 2005

added 03-09-06 : checked 03-09-06
This page is not included in a regular update sequence and will be checked and updated infrequently


The following news items appeared on the welcome page of theBythams website during 2005 ...


refuse collection added 03/12/05

SKDC refuse collection days will vary over the Christmas period as follows ...
| | |
| --- | --- |
| Normal Day | Revised Day |
| Mon 26th Dec | Sat 24th Dec |
| Mon 2nd Jan | Sat 31st Dec |

Find out more about waste collection and recycling in theBythams area by CLICKING HERE.


church lane news added 03/11/05
At long last they have started to fix the ford on Church Lane, Little Bytham.
CLICK HERE for the full story in pictures.


winter events at the Olive Branch added 29/10/05

The Olive Branch at Clipsham have released details of special events taking place there over the next few months. These include the annual Food and Wine Christmas Sale on Saturday 10 December, cookery demonstrations and the opening of The Barn. For full details CLICK HERE.


Conservative MP Quentin Davies keeps his seat added 11/05/05
The Conservative MP Quentin Davies keeps his seat at Westminster with a 7,445 Majority. To find out more about our local MP visit his website, by clicking here.


some good news if you have Freeview added 04/05/05
E4 will be available on FREEVIEW from 27 May 2005, just in time for you, if your a Big Brother fan. For more about E4 check out their website at www.e4.com.


general election local candidate info added 03/05/05
Below is a list of what candidates are standing in the local area and what partys they are from:-
Stuart Rising (The UK Independence Party)
Ian Selby (The Labour Party)
Quentin Davies (The Conservative Party)
Patrick O'Connor (Liberal Democrats)
Benedict Brown (English Democrats)
John Andrews (The Organisation of Free Democrats)


GNER keeps the ECML franchise added 22/03/05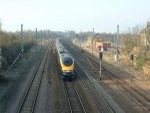 We would like to say well done to GNER for keeping the ECML franchise.
If you trvael to London and need to be, there early. Then we have good news, one of the many things they will be doing is to add an early morning commuter train, scheduled to arrive in London at 7.10am.


bythams primary school open day added 21/03/05

On Thursday 24th March between 2pm and 6pm the Bythams School will be holding an Open Day. Everyone is welcome to learn and have fun at the same time!

For further information contact the school on 01780 410275


GNER look set to keep the ECML added 28/02/05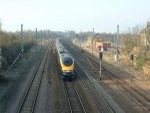 Going by reports in a number of National newspapers. It looks like GNER is going to keep the ECML franchise. Which we believe is great news. Lets just hope that, it's true. We will keep you updated, with all the latest here.


the glenside flower show added 16/02/05
The Glenside Flower Show will take place on July 23rd 2005 at Little Bytham Village Hall. Held under the auspices of Little Bytham PCC the event will have classes for fruit, vegetables, flowers, arts and crafts, baking and preserves, and children's classes. A Best Garden competition will also be judged in June with the result announced at the show. There will also be a children's scarecrow competition and lots of fun for all Glenside residents.


photo search engine added 14/02/05