places : east coast mainline

updated 17/12/06 : added 16/03/03


The East Coast Mainline, from London to Edinburgh and beyond, runs north - south through theBythams area. From the south the line can initially be seen to the east of the B1176 as you approach Careby. The road sharply crosses the line to enter the village of Careby and then turns sharply left to follow the mainline in the direction of Little Bytham.

In Little Bytham the road ducks under the mainline at the southern end of the village to once again position the line to the east of the road. Through the village of Little Bytham the mainline is high above the village on an embankment. In the centre of the village the road once again duck under the mainline to then follow the mainline, now to the west of the road again, on to Creeton.

At Creeton the mainline leaves the road to head across country to wards Swayfield, passing the village on its eastern side before leaving theBythams area bound for Grantham and places north.


The pictures below were taken on 16 March 2003, they show the railway as it is today electrified with over head wires and electronic signals.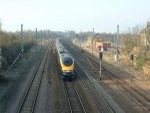 The following pictures were taken in roughly the same area by Gary Thornton, who manages the Six Bells Junction website during a visit he made to theBythams area, over twenty years before, on 20th July 1981. They show a very different East Coast Mainline, free of the clutter of over head cables amongst other things. added 27/04/03





The following image shows D6582 (33062) and D6581 (33061) at Little Bytham on the East Coast Main Line in June 1962.